Agra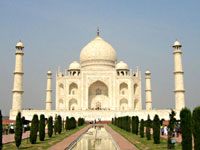 Agra is a major tourist destination because of its many splendid Mughal-era buildings, most notably the Taj Mahal, Agra Fort and Fatehpur Sikri, all three of which are UNESCO World Heritage Sites.
The fifth Mughal emperor, Shah Jahan, built it in 1631 in the memory of his second wife, Mumtaz Mahal, a Muslim Persian princess. She died while accompanying her husband in Behrampur in a campaign to crush a rebellion, after giving birth to their 14th child. Her death so crushed the emperor that all his hair and beard were said to have grown snow white in a few months. When Mumtaz Mahal was still alive, she extracted four promises from the emperor: first, that he build the Taj; second, that he should marry again; third, that he be kind to their children; and fourth, that he visit the tomb on her death anniversary. He kept the first and second promises. Construction began in 1631 and was completed in 22 years. Twenty thousand people were deployed to work on it. An Iranian architect designed it and it is best appreciated when the architecture and its adornments are linked to the passion that inspired it. It is a "symbol of eternal love".
Having buried her down at Behrampur, it was time for the emperor to keep his promise and build a tomb there itself. But by and by, it was felt that it was virtually impossible to transfer all the marble there, as it would cost an entire fortune and an entire lifetime. So, when Agra was chosen as the only alternative, astonishingly her grave was uprooted and brought to Agra, only to be finally transferred to the monument, completed twenty-two years later.